Review: Feelings Run Faster, by Julia Harte @TimeOut Istanbul
If you've ever thought that Turkey needed some thorough psychoanalysis, 'Feelings Run Faster' may prove a very cathartic read. Author Yazgan, a working psychiatrist and professor in Istanbul, applies a mix of clinical analysis and personal musing to a range of topics: how Istanbul'a perpetual telaş (rush) relates to the savouring of artichokes, the neuroscience of political conservatism and the Turkish herd mentality that tolerates and even encourages cutting corners to get ahead.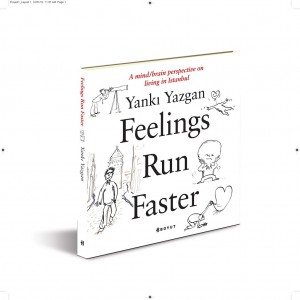 'Feelings Run Faster' can either be read cover-to-cover or browsed. Yazgan's whimsical sketches skitter through the pages, breaking up brief chunks of text. Divided into five categories – Turkish Coffee, Happiness, Others, Love, Time and Places – Yazgan's conclusions are particularly convincing when he relates a personal memory or anecdote to illustrate a broader observation about life, such as his initial disgust but eventual gratitude towards receiving an encyclopaedia for his circumcision.
Yazgan's English, as he recognises in the afterword, is far from perfect, and the text contains a fair number of errors and confusing passages, which sometimes detract from the flow of his writing. But the overall brisk text boasts plenty to keep readers engaged, especially brief homages to under-translated Turkish authors such as Ahmet Hamdi Tanpınar and Oğuz Atay, frequent invocations of atasözler (Turkish proverbs) and interesting findings quoted from psychiatric or social science studies. JH
I think this a fair review of what I have done, capturing the most significant parts and pointing the text's major flaws. Three stars out of five, is good enough for this novice writer. I took this book as a part of a challenge, that is being published in English. This is quite different from publishing research that is a natural extension of my physician-researcher career. My sincere thanks go to the TimeOutIstanbul reviewer Julian Harte, who was kind to my text.